If you're running a business, you know that SEO is important.
But what many business owners don't know is that link-building is one of the most important aspects of SEO.
In this blog post, we will discuss the top reasons why link-building is so important for your website's SEO. 
The best part?
We'll also provide some tips on how to get started with link-building!
Let's get started.
An Introduction To Link-Building
Link building is the process of getting other websites to link back to your own site.
If you're a blogger or website owner who wants more traffic, it's crucial that you build links from other sites in order for search engines like Google or Bing to rank yours higher on their results pages (SERPs).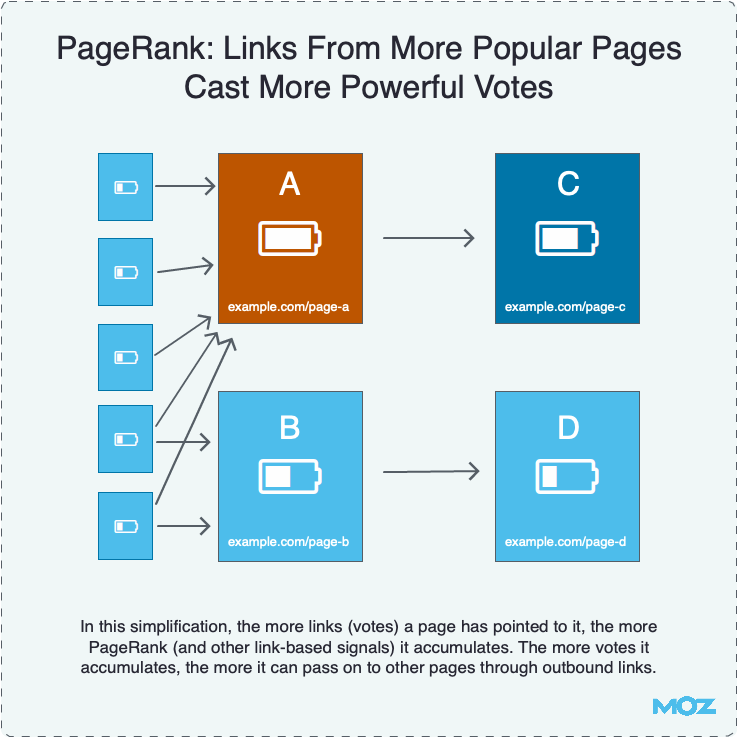 The reason why this works so well is that search engines want to provide users with relevant content.
If your site has lots of links from other websites, they'll see it as being more valuable and worth ranking higher than others.
Link Building Is Important For Seo, But Why? 
There are many reasons why link building is important for your SEO strategy. 
First and foremost, links are a major factor in Google's algorithm for determining how to rank websites. 
In addition:
Links can help you achieve better visibility in search engine results pages (SERPs), increase website traffic, and boost brand awareness.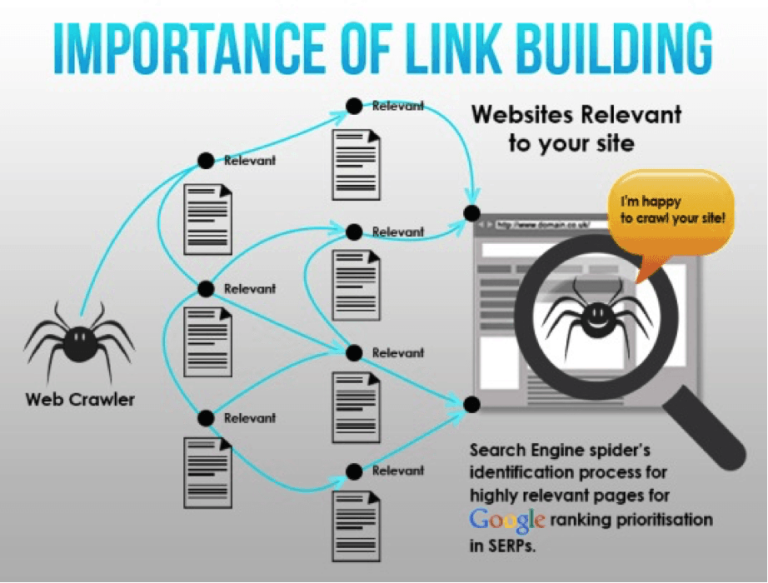 Finally, good link building practices can improve your site's user experience and usability by providing visitors with a more positive experience while they're on your pages.
What Is Natural Link Building?
Natural link building refers to obtaining links from other websites without having to pay for them, like with paid ads or sponsored posts. 
This type of link-building is beneficial because it doesn't violate Google's guidelines and can help you build a more natural backlink profile. 
Additionally, natural links are seen as more trustworthy by search engines, which can result in better rankings and increased traffic.
What Are The Different Types Of Links?
There are many types of links that you can build, but some of the most common include:
Link exchanges
 This type of link is when two websites agree to trade links with each other. Usually, this involves trading text links, but sometimes these are also banner ads or embedded images/videos.- 
Guest blogging 
Guest blogging means writing an article for another blog in exchange for a link back to your own site. That's also the reason we created Wunderlinks, so you can find these guest post sites easily.
Want to know a simple solution to get quality guest posts?
For guest posting opportunities, Google is a great place to start. To find blogs that accept guest posts, use one of the following keyword searches. Replace the keyword with the industry-specific keyword.
keyword

"submit a guest post"

keyword

"guest post"

keyword

"guest post by"

keyword

"accepting guest posts"

keyword

"guest post guidelines"
Article submissions 
 This is when you submit your articles to other websites for publication in their blog or article directory. As an added bonus, many of these sites also include a link back to your website.
Social media links 
Links from social media platforms like Twitter, Facebook, and LinkedIn can be extremely powerful because they help to increase your social media presence and improve user engagement with your content. 
There are many different types of links you can build to help boost the authority of your site. 
Some examples include guest posts as we have discussed, where someone writes an article for your blog in exchange for a link back to their own site, or directory submissions where you list your website on various online directories.
 You can also get links by participating in social media communities such as Quora, Reddit, and LinkedIn groups, as well as submitting articles to popular article submission websites like EzineArticles.
In addition, you can also acquire links through more traditional methods such as guest blogging on other people's websites or submitting press releases to local newspapers and magazines. 
What are the Benefits of Link building in 2023?
The benefits are vast and continue to increase as search engines get smarter. Here are some of the key benefits you can expect to see:
Improved Search Engine Rankings 
As we mentioned earlier, one of the main reasons for doing link building is to improve your site's search engine rankings. And it works! By acquiring high-quality links from other websites, you're telling search engines that your content is relevant to the topic at hand – which means it should appear higher up on their results pages.
Improved Trustworthiness of Your Brand 
 Another benefit of link building is increased brand awareness. When people see links pointing back to your website from high-quality sites like The New York Times or Forbes, it immediately lends credibility to your brand and makes people more likely to trust you. 
Increased Traffic – Finally, another key benefit of link building is increased website traffic. By getting your content featured on high-traffic websites, you can expect to see a significant increase in the number of visitors coming to your site.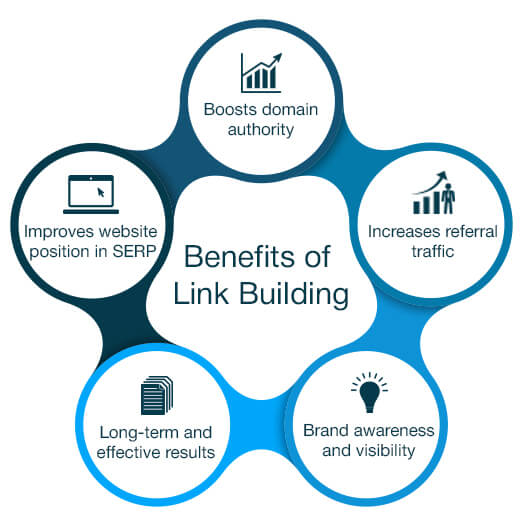 In short:
Gone are the days when link building was an easy task. What once used to be just a matter of inserting links in random places is now a complex process that involves different techniques and strategies. Link building has become so much more than just improving search engine rankings, it's about brand awareness, authority, and trust.
12 Actionable Tips To Do Effective Link Building For SEO
There are a few essential steps for doing effective Link building for SEO. 
To start with, you need to identify the best websites and blogs to target based on your industry and niche. You can use tools like Moz Open Site Explorer or Majestic SEO to find relevant websites.
Here are the steps you need to take to do effective Link building for SEO:
Tip 1: Identify your Competitors'
Competition research is essential to understand the SEO strategy of your competitors. 
The first step to do effective link building for SEO is to identify your competitors and find out how they are doing it. 
Once you know what their strategies are, you can target similar websites that might be interested in linking back to yours too!
Tip 2: Create Links on High-Authority Websites
The second step in doing effective link building for SEO is to create links on high-authority websites. 
For example:
 If you are a lawyer who wants to build up your client base, then write an article about legal issues and publish it on LegalZoom.com or Avvo.com – these are high-authority websites that will help boost your rankings quickly!
You can also create links from other legal blogs such as AboveTheLaw and Law360, just be sure not to overdo it because Google might penalize you if they catch too many low-quality backlinks pointing at their site.
Tip 3: Get Links From.Edu And.Gov Websites
These types of websites have high authority and are trusted by Google, so getting links from them can help improve your website's search engine rankings. 
Point to remember?
Be sure to only get links from authoritative sources – spamming these sites with low-quality backlinks will only hurt rankings in the long run!
Tip 4: Create An Infographic Or Video 
Create an infographic or video which can be easily embedded by other websites, allowing them to link back without having any hassle. 
You should also post these infographics or videos on social media sites like Pinterest because it increases the chances of getting linked from other websites by a lot!
Tip 5: Guest post on high-authority blogs
Contribute to high-authority blogs like Techcrunch and Mashable. Guest posting allows you not only to get links but also to build relationships with influential bloggers in your industry. 
However, make sure that the blog accepts guest contributors first before sending an email requesting an opportunity to guest post.
Tip 6: Testimonials for products and services
You can write testimonials for products and services that you use. Most companies will happily publish them on their website with a link back to yours in exchange for your feedback about their product or service! 
This type of marketing strategy works best when done through email because it's more personal and direct than just sending out mass requests on social media sites like Facebook.
Tip 7: Write A Testimonial For Your Own Product Or Service
Give a testimonial of your own product or service. This can be done through email, social media sites such as Twitter or even by leaving comments under blog posts that talk about similar topics! 
It's always good to have a variety of links from different types of websites, so don't be afraid to experiment with different link-building techniques.
Tip 8: Find Broken Links on Websites
Find broken links on other websites and notify the webmaster about it.
 Most webmasters are more than happy to fix broken links if they know about it, so this is a way for you to get them back in order and have an easy time getting linked from their website again!
Tip 9: Link Other High-Authority Sites To Your Own Resource Page
Create a resource page on your own site with links to other high-authority websites.
 You can do this by creating content that people will want more information about, such as how-to guides or lists. Once you've created the content, add links to other websites that will be helpful for your readers.
 Not only is this a great way to get links, but it can also help increase website traffic!
Tip 10: Use HARO (Help A Reporter Out) 
HARO (Help A Reporter Out) to find opportunities where you can provide quotes or contribute content to magazines or newspapers. 
This can be done through email and social media sites such as Twitter; just make sure that the publication accepts outside contributors before sending an email request for them!
Tip 11: Create Content that Gets More Eyeballs
The eighth step is to create content that people like and share on social media sites such as Facebook or Twitter. This is a great way for getting links from other websites because it shows Google that there's the value behind linking to your page, so don't be afraid to ask people for links if they've shared your content on their website!
Tip 12: Right Way To Get Links From Social Media Sites And Forums (My personal experience )
In the last few years, building links with social media has become a huge topic of discussion in the world of SEO. 
In fact:
 It's probably THE most popular way to get new links these days. 
After all, people are constantly adding new content on Twitter and blogs, which makes it an excellent source of link opportunities for you.
Conversely, there are many social media sites that don't really see links as something valuable. It's true; you can do lots of damage by getting too aggressive on sites like Facebook and Google+ (which I'll get to in a minute).
This SECTION is going to talk about how to get links from social media sites.
 If you're looking to get either a direct link or directory citation then these sources are not for you. There's no harm in trying, but it's just not what I'm going to talk about here.
The point of this section is to give you a good idea of where you can build easy links from social media sites. Like I said above, there are some sites that don't offer you much in terms of link opportunities, so I'll be mentioning those as well.
If you'd like to learn more about how to find and build links, check out this link-building section. 
Why not Mention Google Stack?
You may be wondering why I didn't mention Google Stack. Well, in my opinion, Google Stack just doesn't offer up enough link opportunities to justify spending time on it. Whenever someone asks me about Google Stack, I always tell them the same thing: It's just not worth my time.
I can see why people would be interested in it though; the ability to add Schema into your profile is a very nice feature.
As you can see, I didn't include Google Stack in this list because it just doesn't offer up a lot of great link opportunities for your site. 
Don't get me wrong though; if you're going to do some work on it then that's fine, but just realize that any time you spend on it won't really pay off much.
The same could be said for Facebook and Twitter as well, but they do offer up some good opportunities for links so I'll talk about those in a little bit more detail.
Let's start with an obvious one: Pinterest.
Pinterest
There isn't a whole lot you can do to get links from Pinterest. In fact, if you see someone getting a link from it then that's usually because they have a very interesting pin and/or board. 
The only thing I can think of is to make sure you create boards and pins about your niche (if it falls within their TOS).
Twitter
This is one of the social media sites that I actually spend a little bit of time on from time to time.
 The main thing you're going to want to do is to follow other people in your niche and start conversations with them.
If they see that you're adding value then they might give you a +1 or re-tweet one of your tweets, which could potentially get you a link.
Don't just randomly tweet stuff out with no direction; be purposeful about it by using hashtags and targeting users.
Facebook
Facebook is very similar to Twitter in that you're going to want to follow people in your niche and start conversations with them. However, I feel that the ability for Facebook users to leave comments on posts gives it a leg up over Twitter.
The other thing you can do is create some kind of promotion through your Facebook page and offer a link.
 I don't really recommend doing this though, because you'll want to focus on creating quality content instead of just trying to build links.
Basically, the main thing you're going to want to do is to find groups that fit your niche. 
Membership in these groups is how you're going to get the most value out of Facebook. If the group isn't a good fit for your niche then it's not going to be worth your time.
Instagram
This is another social media site that offers up great link opportunities. I'm not really sure of all the ways you can get links from it, but I know for sure that you can list your Instagram profile in your author bio on sites like Medium or Tumblr.
If you want to use my strategy then follow these steps: 
Get an Instagram account

Claim your photos with Google reverse image lookup 

Upload some nice looking pictures, and be purposeful in every post
Another simple solution:
If you want to use this strategy then follow these steps:
 Get an Instagram account

 Upload some nice looking pictures

 Be purposeful in every post, and include the link in your author bio
Your Turn
What was your favorite link-building tip?
Are you going to start trying to get links from social media sites and forums?
Or, thinking about paid guest posting?
Either way, let me know in the comment below.